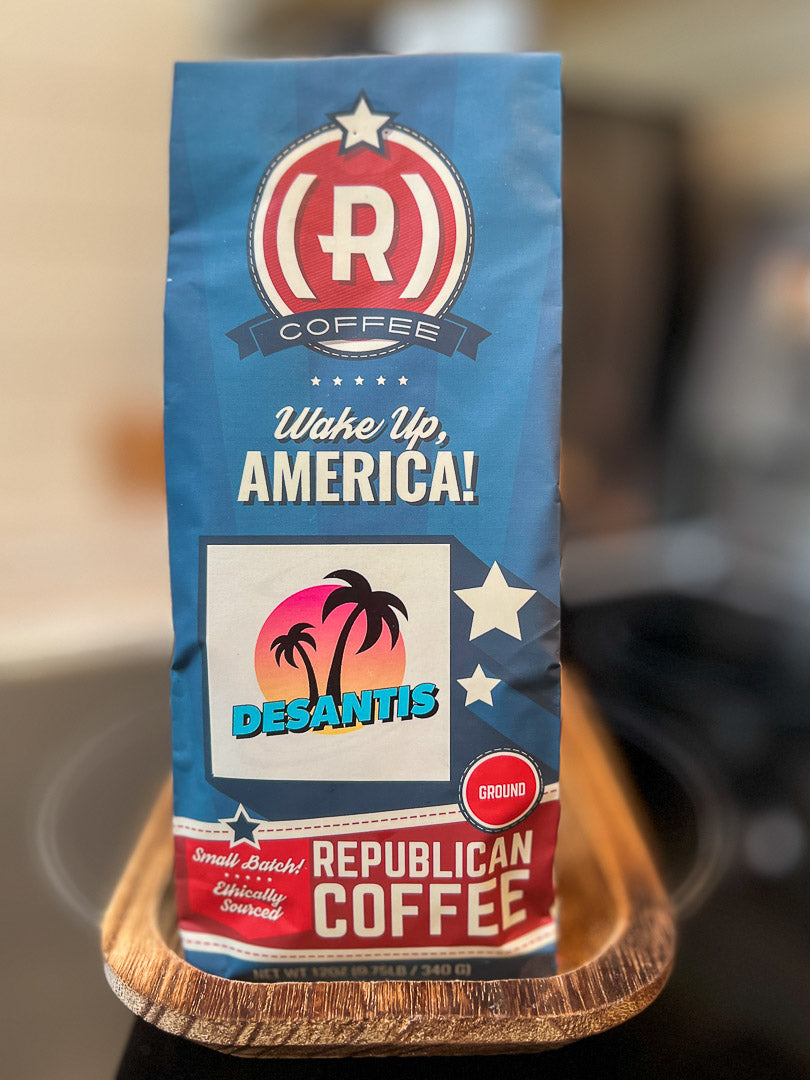 Desantis - A Bold Tribute to the Florida Lifestyle
In stock
☕ Description ☕ Indulge in the essence of the Sunshine State with our exclusive "Desantis" coffee blend. Crafted with the utmost care and dedication, this coffee is more than just a beverage; it's a celebration of the Florida lifestyle and the unwavering spirit of Ron Desantis.
🌴 Taste the Sunshine 🌴 Our "Desantis" coffee is a 100% Arabica blend, meticulously curated to bring you the most exceptional flavors that Florida has to offer. Sourced from hand-picked beans, this dark roast coffee boasts a rich and robust flavor profile that is sure to tantalize your taste buds. With each sip, you'll experience the essence of Florida's unique terroir, where the tropical breeze meets the warmth of the sun.
🌅 Embrace the Florida Lifestyle 🌅 Whether you're a proud Floridian or simply looking to immerse yourself in the Florida vibe, "Desantis" coffee is the perfect choice. It's more than just coffee; it's a daily ritual that connects you with the energy, resilience, and passion of the Sunshine State.
🌟 Why "Desantis" Coffee? 🌟 ✓ 100% Arabica Beans: We use only the finest Arabica beans to ensure a smooth and unforgettable coffee experience.
✓ Dark Roast: Our dark roast brings out the deep, complex flavors that coffee connoisseurs crave.
✓ Hand-Picked Beans: Every bean is hand-picked to ensure quality and consistency in every cup.
✓ Rich Flavor: "Desantis" coffee offers a bold and rich flavor profile that's perfect for those who appreciate a strong brew.
✓ Florida Inspiration: This coffee embodies the spirit of Florida and pays tribute to the leadership of Ron Desantis.
📦 Perfect for Gifting 📦 "Desantis" coffee makes an excellent gift for friends, family, or colleagues who share your love for Florida and admire the vision of Ron Desantis. It's a thoughtful gesture that will surely be appreciated by anyone who values the Florida lifestyle.
🌞 Brew a Cup of Sunshine 🌞 Bring a piece of Florida into your daily routine with "Desantis" coffee. Whether you start your day with it or enjoy it as an afternoon pick-me-up, every sip is a reminder of the vibrant, energetic, and resilient spirit that defines Florida.
Order your "Desantis" coffee today and experience the Florida lifestyle in every cup. Don't miss out on this unique blend that honors Ron Desantis and the essence of the Sunshine State. Grab your bag now and savor the taste of Florida! 🌴☕🌞